Galuku Latex Weed Mats harness the strength and absorbency of coconut fiber to create an eco-friendly solution to weed management for berry, shrub, vine and tree crops. They reduce or eliminate the need for hand weeding, help prevent wind-borne weeds from establishing and protect growing media from erosion.
Galuku Latex Weed Mats are helping blueberry growers worldwide reduce the cost of hand weeding and keep their plants in excellent condition.
Made from organic coconut fiber and natural latex, these OMRI-listed mats are suitable for most vine, shrub and tree crops. They also mitigate soil temperature fluctuations for surface roots – keeping them cooler in summer and warmer in winter.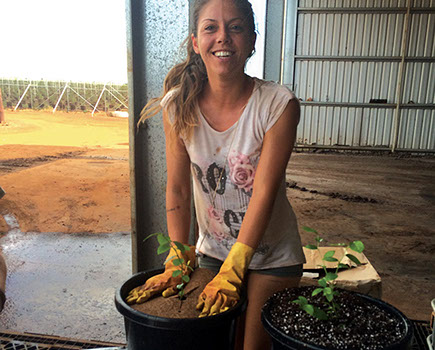 Importantly, Galuku Latex Weed Mats reduce evaporation:
• extending the time between watering
• minimizing fertilizer loss
• and preventing the buildup of surface salts.
Because they are made from flexible natural products, Galuku latex Weed Mats are able to continue protecting young trees, bushes and vine crops as they grow. Their simple design also means that they can be installed in seconds and used on either sloped or flat terrain.
And beneath these long lasting, hardwearing mats, are the perfect conditions for beneficial microorganisms that fight the growth of algae and liverworts. So, not only do Galuku Latex Weed Mats make your job easier and your plants grow stronger – they make your growing substrate better too.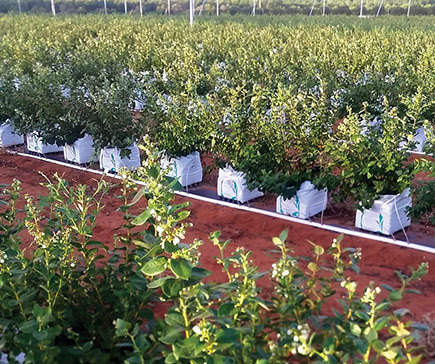 Our OMRI-listed Galuku Easyfill 'Berry' PlanterBags have proven to be more cost effective in commercial settings than traditional pot and potting mixes. Combined with a Galuku Latex Weed Mat, they provide the perfect system for blueberries, blackberries and tree crops to thrive –all in one neat little package.
Available in 22, 25 and 30 liter sizes, the 'Berry' Easyfill PlanterBags contain a blend of washed coir pith, husk chip and fiber to create the perfect growing conditions. This substrate offers excellent Air Filled Porosity (AFP), which allows air and water to move freely. It also has great Water Holding Capacity (WHC), enabling more accurate control of moisture content in the root zone.
The bags are made from high density, hard-wearing co-extruded plastic – black on the inside, white on the outside – and are UV treated to last five years. For best results, we recommend using the 30 cm2 Galuku Weed Mat (WM-30-S) with the PlanterBags.
Crops that can benefit from Galuku Latex Weed Mats