The Easyfil Growing System features our patented Easyfil Planterbag which saves money by reducing labor costs – serving as both the growing media and growing container in one product. It provides for multiple crop cycles by eliminating the need to replace growing media after every crop (as you would need to with wood-shavings substrates). Also, better hygiene is achieved thanks to a self-contained system that reduces the risk of contaminating the media. Galuku's Latex Weed Mats and Drainage Pads complete the system and provide the optimum platform for achieving the best results from Easyfil PlanterBags.
Improves crop yields: Commercially proven to increase the quantity and quality of many crops including blueberries, raspberries, blackberries, tomatoes, cucumbers and peppers.
Saves water: Allows for accurate control of moisture content during critical crop phases.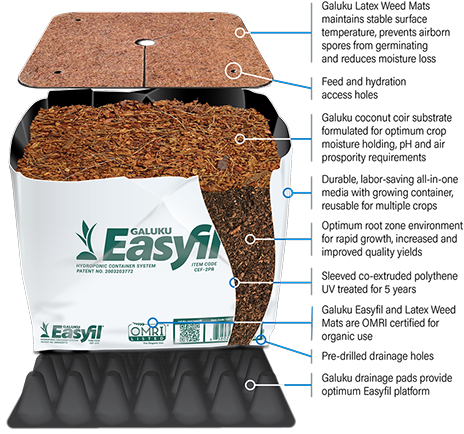 Crops grown in Galuku EasyFil PlanterBags
Easyfil PlanterBag and Easyfil Hydroponic Container System is protected by Patent No. 2003203772. Galuku Group Ltd and its subsidiaries are the only licensed supplier and distributor of this product. Buying, selling or using copies of Easyfil Hydroponic Container System, infringes on Patent No. 2003203772. Patent rights will be enforced.