Compressed Substrate Media
Galuku Hydroponic Blocks are available in naked palletized 4.5kg blocks. Planks are also available in a variety of sizes.
Both are available in different grades suitable for hydroponic growing media for various crops and conditions.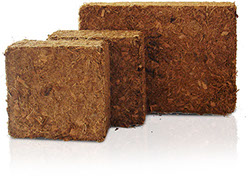 They are suitable for container growing in Pots, Plastic Bags, Styrene Boxes, Bato Boxes and Mapal Trough Systems.
Galuku hydroponic coir substrates are 100% organic, free from chemical additives and soil disease. Whether you grow in high tech glasshouses or low tech poly tunnels, we can supply you with the best Hydroponic Coir Substrates.
Crops grown with Galuku Compressed Substrates